IQCent Review
IQcent is one of the leading binary options trading platform offering traders the ability to invest in forex, cryptocurrencies, indices and stocks, as well as other financial assets and derivatives such as CFDs. IQcent is controversial because of its regulation status. Continue reading to learn more about IQcent and its pros and cons.
IQcent quick overview
| | |
| --- | --- |
| 💻 Trading platform | IQcent has its own website platform |
| 📊 Types of accounts: | Bronze, Silver, Gold, Demo |
| 💰 Currency for account: | USD, EUR and CHF. MBT |
| 💵 Deposit/Withdrawal | Visa Debit, Visa Electron and MasterCard cards, cryptocurrencies |
| 🚀 Minimum deposit: | 20 USD |
| 📈️ Minimum Order | Minimum investment: 0.01 USD |
| 🔧 Instruments: | 100+, Forex and Commodities, Stocks and Cryptos |
| 📱Mobile trading: | Yes |
| ➕ Affiliate Program: | Yes |
| ⭐ Trade features | Copy Trading |
| 🎁 Bonuses and contests: | Yes |
(Risk Warning: Your capital could be at Risk)
What is IQcent?
IQcent is a binary option trading platform that offers a complete online trading services, IQcent allows you to trade stocks, digital currencies, forex and indexes from one place.
The IQcent broker allows the trader to trade through its own platform and allows trading 24/7 from any device, without downloading. This international broker also offers access to customer service in several languages 24 hours a day.
The minimum deposit to trade on the IQCent platform is just $20, and offers the possibility to trade commission-free on a wide selection of over 100 assets. All of these features make this broker appealing to both new and experienced investors.
IQcent does not offer brokerage services for US customers, this platform is not regulated by any financial institution in the United States. This means that you have limited recourse if your account has a funding problem.
PROS
Copy trading features allow you to imitate professional trading strategies
Up to 1:500 leverage on CFDs trading
One hour after settlement of a trade, you will receive your guaranteed withdrawal processing
CONS
It is not registered with any U.S.-based regulatory agency; does not offer account services to U.S. citizens
No free demo account without deposit
IQCent Products
The IQcent broker does not offer brokerage services to US residents. However, the broker offers the possibility of opening a trading account to traders from the majority of countries in the world, and for all traders who are looking for a trading platform offering a wide range of assets with low and minimal trading costs. IQcent allows the trader to trade via his own trading platform, this platform is compatible with all devices with an internet browser.
The IQCent platform offers you the possibility to start trading with a classic desktop computer as well as with mobile devices such as Android and IOS smartphones and tablets without having to download software or third-party applications. All this allows you to not have to worry about compatibility with applications or software. IQcent's platform is easy to use and intuitively designed to adapt to the web browser.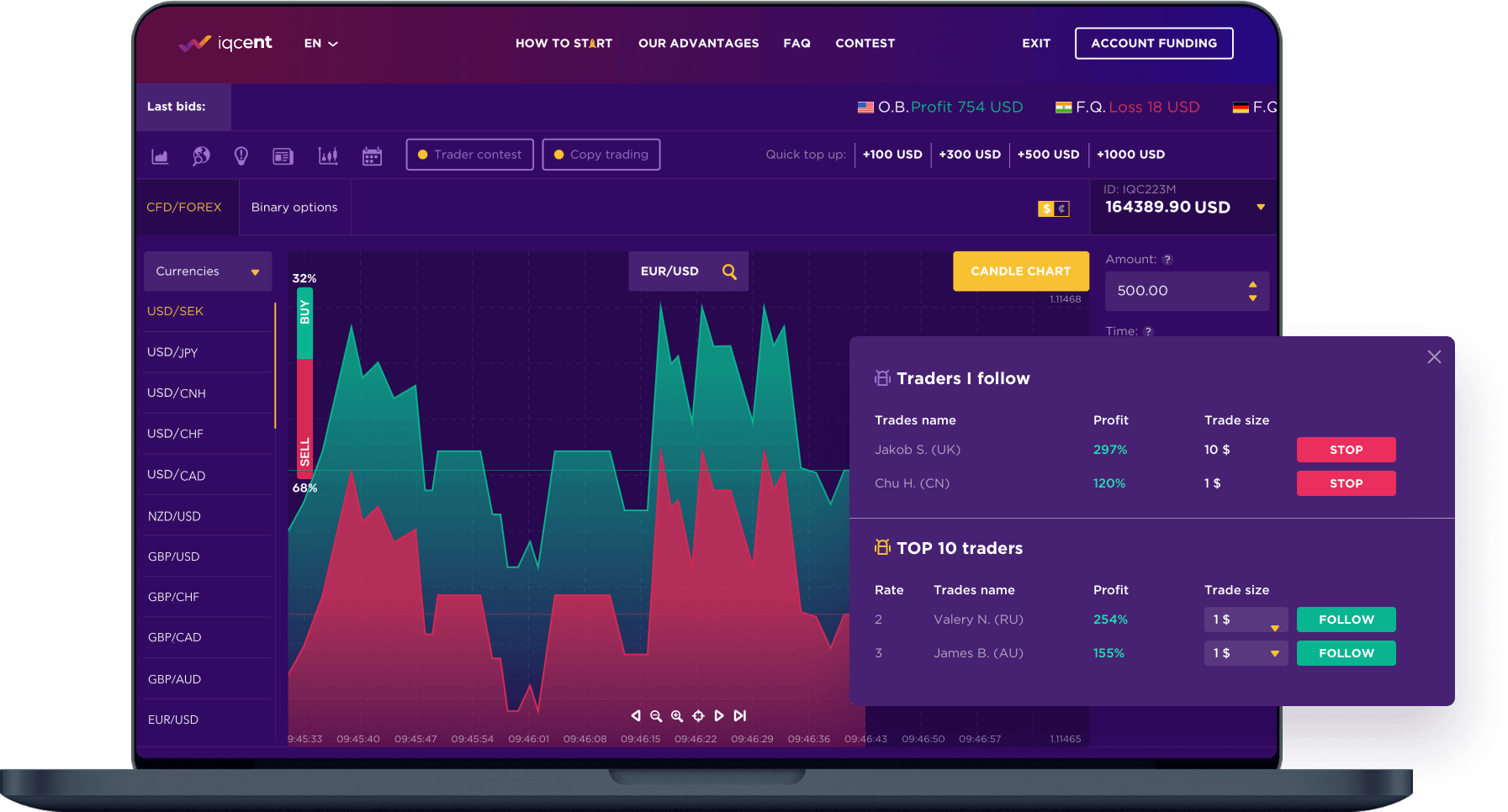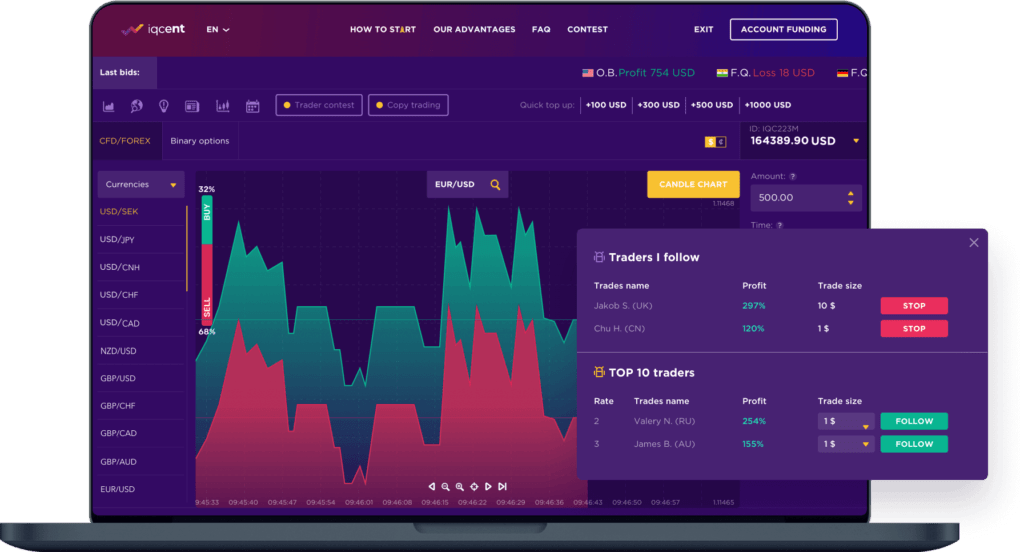 Traders who are frequently on the move or who need to trade via a mobile device will appreciate and find useful the cross-device compatibility of this platform.
On top of that, the platform has been designed intuitively and does not require any software downloads.
IQcent also offers many other features that allow it to differentiate itself from other binary options brokers and other online brokerage services.
A wide range of assets are available: IQcent offers traders an all-in-one trading account allowing them to trade stocks, forex and indices, cryptocurrencies as well as commodities.
Low minimum order size: IQcent is the broker offering the lowest minimum position size in the online brokerage industry. With the ability to trade with a position size as low as $0.01, it is a good option for casual traders and traders who want to trade online with small amounts of money.
Trade binary options and CFDs: This broker supports trading via binary options as well as stock and forex trading via CFDs. This online trading platform offers the possibility to trade more than 100 underlying assets. The IQcent trading platform is therefore a perfectly adapted tool for traders who wish to trade different assets via binary options and CFDs on the same platform.
High Leverage: IQcent offers leverage on CFD positions, this allows you to leverage your position and invest more money than your balance value would allow. IQcent provides up to 1:500 leverage on CFDs and Forex assets, allowing you to leverage your position 500 times. This directly impacts your potential profit or loss. High leverage is not advisable for novice traders, as it greatly increases potential risk and rewards, however experienced traders will appreciate this feature.
Guaranteed withdrawals processing within 1 hour: it is common to wait several days before being able to use the funds to carry out transactions on other brokers and cryptocurrency platforms. IQCent allows you to make deposits and withdrawals instantly and to be able to use your funds the same day of your deposit, deposits and withdrawals are made in less than an hour.
Multiple funding options: The IQcent broker offers you the possibility of depositing and withdrawing money via several options to fund your account almost immediately. this allows the trader such as swing traders and scalpers to have quick access to funds and to be able to trade on a flexible schedule.
Deposit and withdraw your funds via cards, crypto, and other methods: You can fund your IQCent trading account with a wide range of electronic payment methods. These sources include cryptocurrencies such as Bitcoin as well as Visa and Mastercard debit/credit card deposits and withdrawals.
Account Types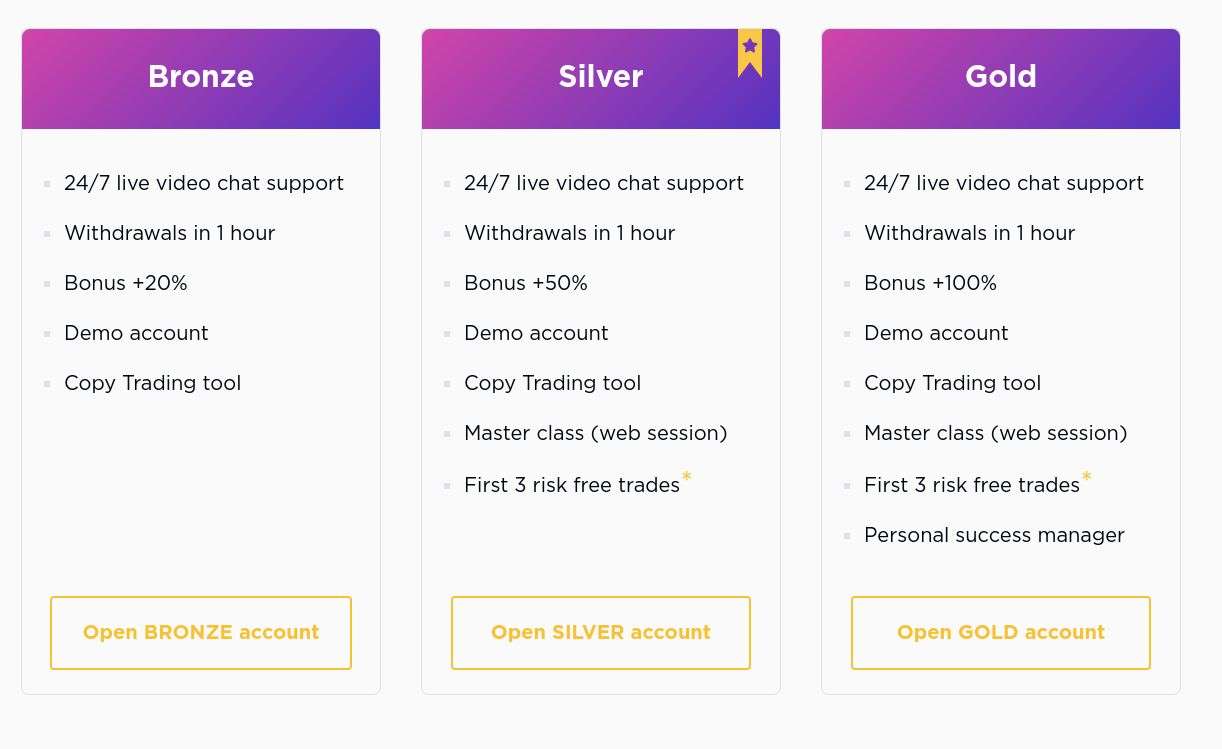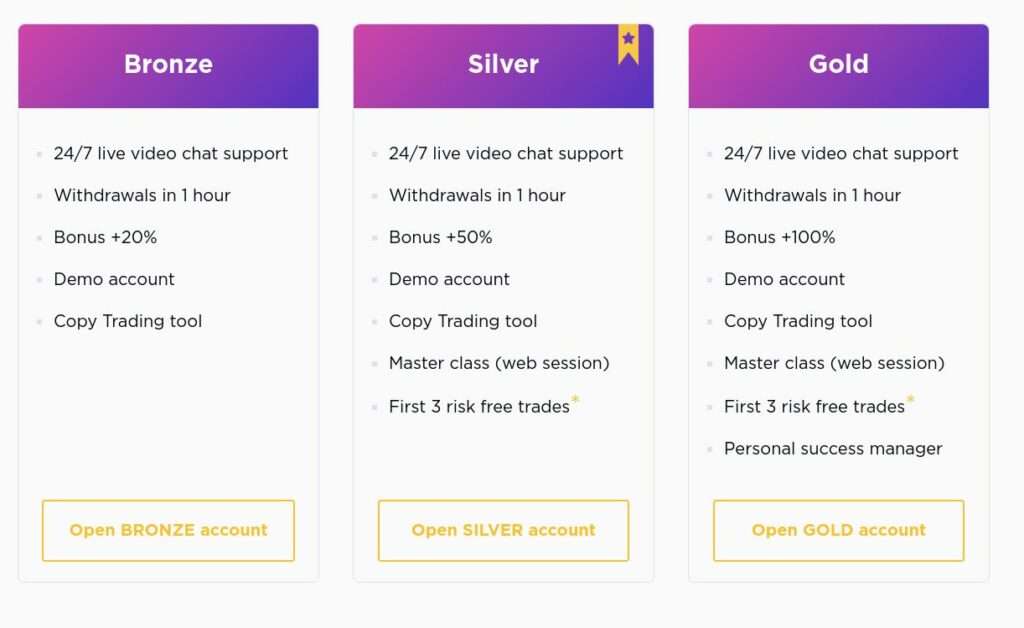 IQcent offers the possibility for the trader to choose several account levels. Each level of account offered by the broker has different advantages such as . Your account level is determined by your initial deposit on the platform. You may be eligible depending on the type of account you open.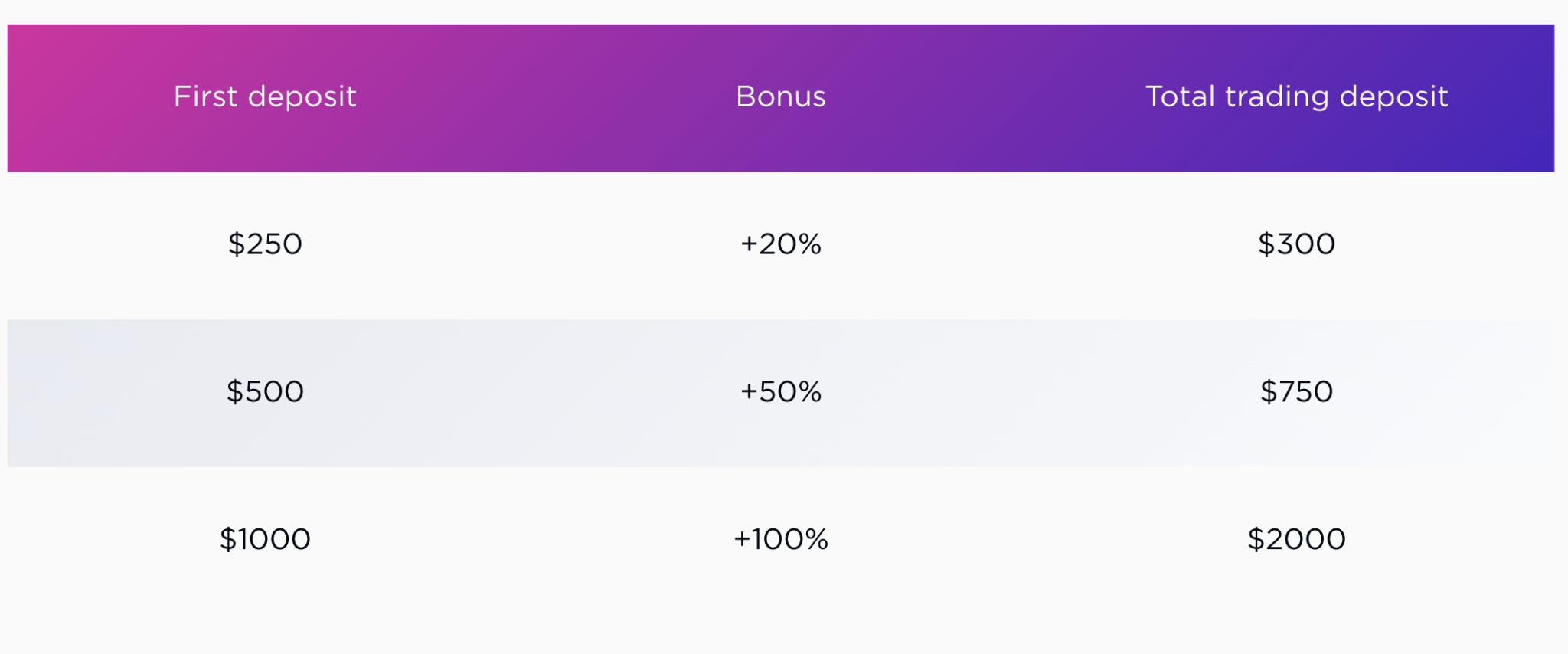 Overall, IQcent broker offers an excellent trading platform for traders outside of the United States.
However, keep in mind that IQcent is a broker that is not registered with any global financial authority and is based in the Republic of the Marshall Islands. It's important to note this when deciding whether or not to open an account with IQcent – and never invest money you can't afford to lose.
(Risk Warning: Your capital could be at Risk)
IQCent Customer Service
IQcent offers these customers the possibility of contacting their customer service online 24 hours a day, 7 days a week via the chat which appears at the bottom right of your screen on the broker's official website. Click on this box to immediately open it and connect with customer service.
I found the customer service reps to be friendly and knowledgeable when we tested IQcent. which is a good point here.
IQ cent gives you the possibility of connecting with several agents online, this is rather practical in the event of disconnection when you contact customer service.
We appreciate the speed in responding to our questions and the speed in contacting support at different times of the day. IQcent does not currently offer customer service via email or phone.
IQCent Security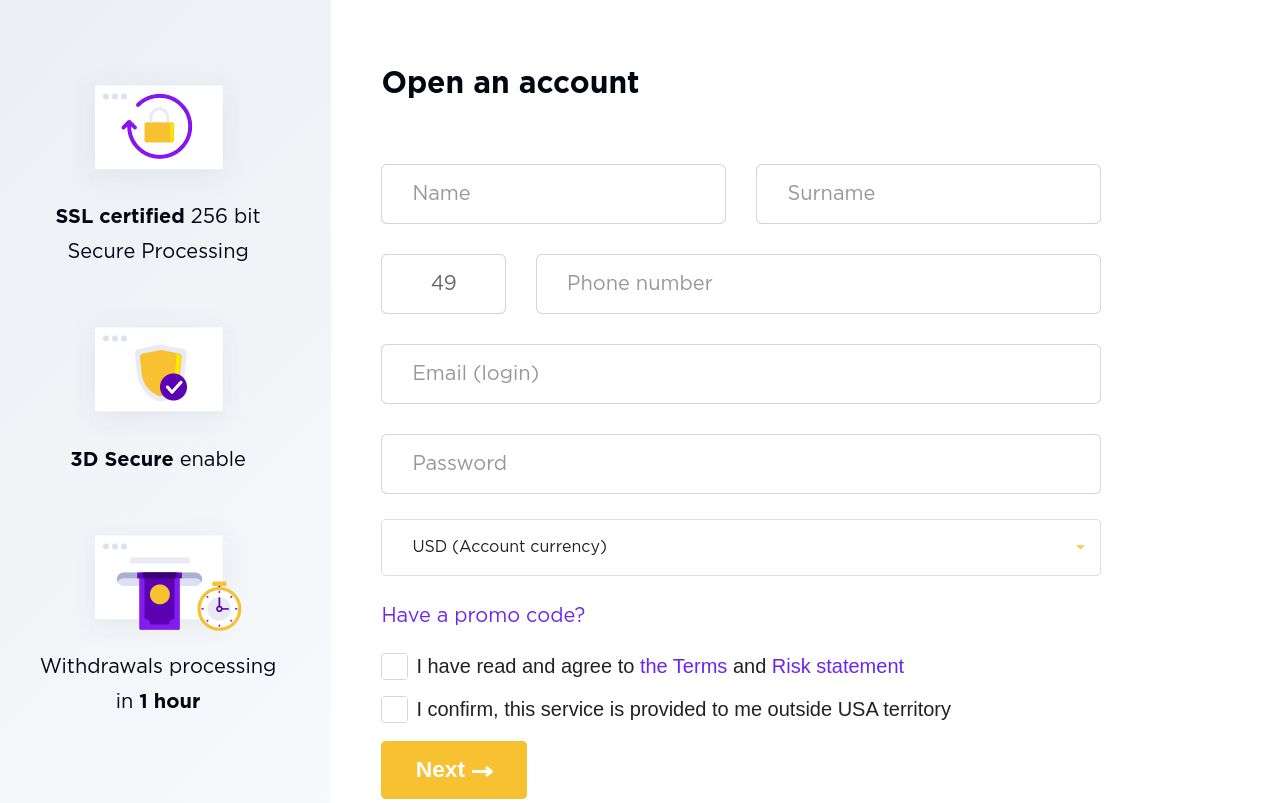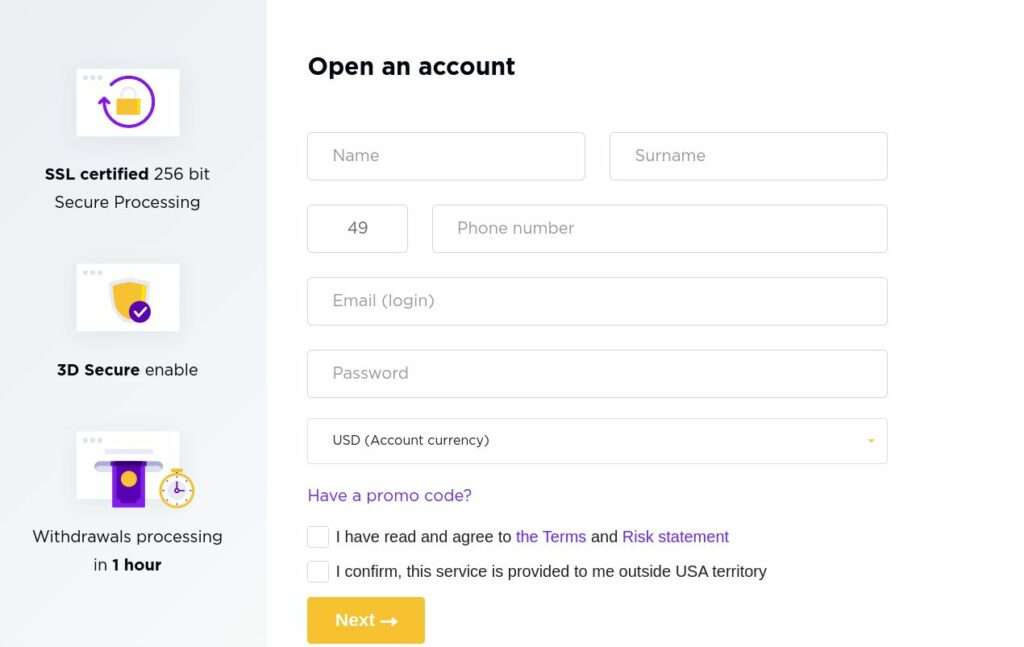 The security of your account and your personal information is important to avoid fraud, hack and other hacker attack aiming to steal your money or your personal information.
The IQcent broker is equipped with a variety of features that ensure the safety of your funds and that your personal information is secure and available only to you.
Two-Factor Authentication: Two-Factor Authentication is a authentication measure to secure your trading account. This allows you to login to your IQCent account only after providing the credentials that only you have access to.
Identity verification is done by sending an e-mail or an SMS with a secret code to your phone. This will allow you to ensure that only you have access to your account. IQcent recommends that you enable 2FA for all accounts to keep them as secure as possible.
High-level encryption: IQcent encrypts data using 256-bit encryption. This encryption method is among the most secure in modern technology. This site security level is sufficient to minimize the possibility of personal data being stolen, or hacked.
IQcent asks you to verify your email address before opening an account. This will reduce the risk of fraud.
IQCent Pricing
IQcent allows the trader to open an account with a low minimum deposit of just $20. Which is slightly above some brokers but still affordable for most traders, the initial deposit amount may vary depending on your location. You can fund an account in most regions with a $20 deposit. This allows traders with small capital to be able to trade.
Opening an IQCent account can be done with a deposit of $20, or you can fund your account with more capital to get a trading bonus of up to 100% on your deposit. To be eligible for the 100% bonus you must deposit an initial deposit sum of 1000 dollars.
The IQcent broker also offers other advantages such as commission-free trading, trading tournaments with prizes to be won and with a low minimum account deposit.
This broker also allows you to trade on the market with a minimum trade size of $0.01. This is all that is required to execute trades. This is well below what competing brokers offer, which generally allows you to trade with $1 minimum trade orders.
This means that traders can trade on IQCent with sums as small as $0.01. This is ideal for traders with small capital, investors wanting to learn how to trade and for traders who want to practice trading on short-term strategies and need to execute lots of small trades frequently.
IQCent User Experience
One area where IQcent excels is user experience.
IQcent has introduced a variety of features to make the platform more accessible to new investors or beginners.
IQcent is distinguished by the following features.
• Fast withdrawal processing: Some online brokers may take days to withdraw funds, IQcent guarantees that your withdrawal will be completed within one hour of your withdrawal request. The IQcent broker could be an interesting choice if you have ever been frustrated by long waiting times after making profits on another online broker.
Customer service is also available 24 hours a day, 7 days a week. You can easily access it by clicking on a dialog box that appears at the bottom right of the screen, which is convenient for quickly getting in touch with the customer support service in the event of a problem or for any questions about of the platform.
• Copy Trading feature: For those new to investing, IQcent's trade copy feature allows them to imitate other users' strategies. Choose a trader whose trades you want to copy and click "Enable Copy Trading". Your account will track the trades of the trader you have chosen and allow copy trading. This feature is unique and can be used to help you trade like an expert guide, without having to spend hundreds of dollars on training.
• Quick Account Setups: IQCent trading account setup is extremely easy and fast. the creation and opening of a trading account is done in less than 30 seconds.
The verification of the trading account is effective within a few hours after your registration after having provided the required documents to the verification team.
Most users can therefore start trading for real money within a few hours of opening an account. IQcent offers you the possibility to fund your account easily with more than 10 payment methods.
You can also open a demo account, however access to the demo account is on request. IQcent demo accounts are only accessible after making a deposit in your trading account. It is important to remember this before creating an account or linking your accounts to IQcent. If you wish to trade on a demo account without deposits, we recommend that you register with brokers offering free demo accounts without deposits.
(Risk Warning: Your capital could be at Risk)
IQcent vs Competitors
IQcent is a great option for traders who are looking for low commissions and trader who want to trade frequenty, but it's not the right platform for all. Investors from the United States are not permitted to trade with IQcent at the moment, because the company isn't licensed under the country's financial regulatory laws.
This means, if your are a USA Citizen you will need to use another broker regulated in the US such as Nadex, Interactive Brokers, or eToro that are other great alternative depending upon the asset selections that you whant to trade.
Hackamericas offers insights and reviews on these IQcent competitors. You might consider using the following links to continue your search for the best trading account.
IQCent Overall
IQcent is a broker suitable for traders with small capital to trade as well as for traders wishing to invest in several assets. This broker gives you the opportunity to trade more than 100 different assets via binary options and CFDs including Forex currencies, stocks, cryptocurrencies and indices, which will allow you to build a diversified portfolio.
IQcent is a perfect broker for all binary options traders and CFDs traders, wishing to enter the market with a minimum deposit of $20 and minimum trade sizes as low as $0.01.
IQcent allows you to trade options, forex and CFDs directly from its proprietary platform, allowing you to trade on both desktop and mobile devices with a web browser. IQCent is also the only online brokerage firm offering 24/7 customer support in multiple languages.
For US traders, it is important to know that IQcent is not in compliance with the regulations required to allow them to open accounts in the United States. If you decide to open an account with IQcent, it is also important not to invest more than you can afford to lose.
(Risk Warning: Your capital could be at Risk)
We are sorry that this post was not useful for you!
Let us improve this post!
Tell us how we can improve this post?